Long Term Property Rentals in Marbella
---
Privacy, Security, Ease & Comfort
Nearly 300 Long-Term Rental Properties Available
Safety, Security, Longevity
---
We have nearly 300 Long-Term Rental properties available to you for contracts from 1-3+ years.
If you are looking for the benefits of an experienced Real Estate Advisor adept in the local & social playing field that Marbella has to offer then you are in the right place.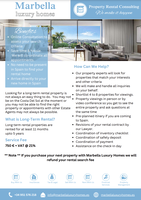 We Have a Long-Term Rental Property Search Service
At Marbella Luxury Homes we know how hard it can be to find the perfect long-term rental property especially if you are not in the country at the time. We offer a long-term rental property search service so we can take care of your requirements, shortlist the perfect properties & even do live video tours of the apartments & villas. To find out more about this service simply click the button to Learn More.